5 Questions to Ask Before Buying a Stairlift
Two (or more) story houses present challenges for people with people with mobility issues or with disabilities.  Yet many people want to stay in their homes that they've spent much, if not most, of their lives.  Stairlifts are ideal for navigating a multi-story house.  There are many companies that make stairlifts.  Most of them have multiple models from which to choose.  How can you be confident you're making the right choice?
Here are five important questions to consider when considering buying a stairlift.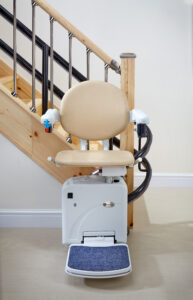 1. How do I pick the right company?
Deciding to install a stairlift in your home is not only a financial investment, but an investment in your quality of life.  Buying an inexpensive stairlift that is unreliable is frustrating.  Look for companies that offer free, no-obligation consultations.  The products you consider should be highly-rated (search for reviews on the company and the product).  The company that installs your stairlift should have a track record of installing, servicing, removing, relocating, repairing, and re-fitting them.  They should offer an extended warranties, have a team of experienced technicians, and multiple options from which to choose.
One of the best ways to judge a provider is to check out testimonials and reviews from past customers. These can be found on the manufacturers' websites or on independent sites like ConsumerAffairs and HomeAdvisor.
2. Will my stairlift be covered by insurance?
While you're researching your stairlift options, contact your health insurer to see how much of the cost they will cover. That information will help you determine what you can afford and how much out-of-pocket expense you may have.  Also check to see if their coverage differs for new versus reconditioned stairlifts.  If you need a curved stairlift, make sure to ask if they provide additional support since curved stairlifts are more expensive.  Companies like VJN Enterprises will work with you and your insurance company to make sure as much of your purchase as possible is covered.
3. Are my stairs straight or curved/angled?
The answer to this questions affects the cost.  Straight staircases are easier to install stairlifts on and cost less.  Curved staircases or staircases that change directions require a more extensive survey, more materials, and more time to install.  That increases the cost.  You installer may be able to modify your staircase to make a straight installation from a curved one, so be sure to ask them if that is a possibility.
4. Should I rent or buy?
Many stairlift installers offer the option to rent a stairlift.  This is a consideration of you are only planning to stay in your home for a short period of time after the installation.  You'll need to consider the out-of-pocket costs of a new unit versus the rental costs of the same unit for the period you are considering renting.  The choice to rent or buy is solely based on cost and how long you plan to stay in your home.
5. What model should I choose?
Most stairlift installers offer multiple models.  Each model has features and options that you need to consider.  Make sure the model you select is one in which you feel comfortable and secure.  This goes for both the chair itself and the controls.  Ask to try out different models before selecting the one you want.  Stairlift features you'll likely want to consider include:
Multiple charging points: Charging points are where your stairlift battery is charged, usually at the top and bottom of the stairs, so the lift can be charged while parked.
Continuous charging function: Some rails are fitted with a continuous charging system so that the lift will be charged no matter where it is parked along the rail.
Fold-up seats, footrests, and armrests: These help to ensure the seat doesn't create an obstacle or hazard when not in use.
Safety sensors: Sensors detect obstacles in the lift's path and signal the stairlift to stop.
Retractable seat belt: All lifts come with a seat belt as a standard feature. A retractable seat belt is easy-to-use and is more aesthetically pleasing than a loose one.
Harness: A harness will give additional support in cases where a seat belt doesn't offer enough.
Flip-up rail: Stairlift rails have to extend beyond the last step of your staircase to ensure the chair will transport the user safely to the top or bottom of the stairs. The last section of rail can be a folding rail so that it can be stowed out of the way and not become a potential safety hazard.
Remote controls: These enable you to "call" and "send" the lift where needed.
Key switch: A key switch will help you prevent unauthorized use of the lift (such as by young children).
Manual emergency stop: This is a button that can be pushed if you need to stop the lift for some reason.
Battery backup: A battery backup will ensure your stairlift still works if there's a power outage.
Swivel seat: This will make transfer onto and off of the lift easier and safer.
Adjustable seat height: Having an adjustable seat height is ideal if you have multiple users.
Most features involve making the stairlift more practical and safe for users and others who will be in the home. There are aesthetic options too, such as the availability of different types of upholstery to suit the style of your home.
Answering these questions will go a long way toward ensuring you get the best stairlift solution for your needs.  Fining a company that sells and services reliable and well-made stairlifts will ensure you have a great experience.  Make your home struggle-free with the right stairlift installed by a reputable service company.
VJN Enterprises has been delivering home mobility and accessibility solutions since 1988.  We sell and service the best, affordable, and most practical products to help make your home a handicap accessible home.  Our experts works with you to design and install solutions that fit your lifestyle and your budget.  We accept most insurance and will work with you to make sure your insurance covers our products and services.  Contact us to learn how we can make your home work for you.
Sit down with one of our experts and explore all of the affordable home mobility and accessibility options and designs we offer.
| | | |
| --- | --- | --- |
| Monday | | 9:00 AM - 5:00 PM |
| Tuesday | | 9:00 AM - 5:00 PM |
| Wednesday | | 9:00 AM - 5:00 PM |
| Thursday | | 9:00 AM - 5:00 PM |
| Friday | | 9:00 AM - 5:00 PM |
| Saturday | | Closed |
| Sunday | | Closed |