Barrier Free Ceiling Lift Systems
Barrier Free Ceiling Lift Systems ensure safety, while comfortably lifting and transferring patients.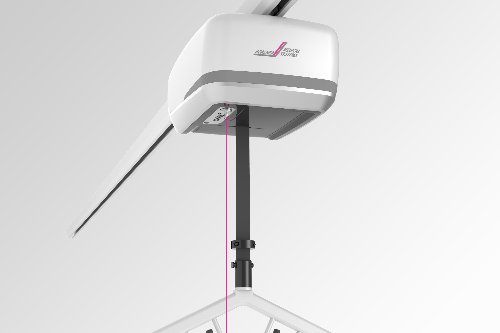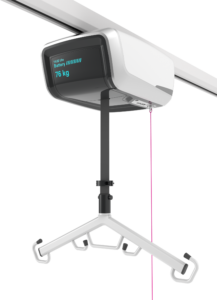 A rugged lift coupled with advanced technology. The Unilift PRO introduces a medical grade Personal Digital Assistant (PDA). The lift can be controlled using the standard hand control or with the PDA. Compliance and service data can be gathered wirelessly and can also be loaded onto the PDA and printed. The internal medical grade scale is displayed on the PDA and on the lift's large LCD screen. The lift's weight capacity can range anywhere between 600lbs to 1100lbs. A blue ambient light on the top of hoist comes on when the lift is in use.
Integrated scale
Steel intern parts, no plastic gears
Lifting capacity 600 up to 1,100 lbs.
Programmable lifting speeds
PDA handset or wired hand control
Downloadable/printable compliance software
Down loadable/printable service software
Integrated lift color display
Multiple spreader bar options or –
-Electronic Patient Positioner
Approved for use in humid surroundings
Horizontal drive motor
Soft start/stop function
Quick Release hanger Bar
Permanent Charged rail
8 function Medical PDA
Used as a hand control, read data, remote download.
5'' high resolution touch screen
Anti-bacterial material
Readable and downloadable compliance data
Readable and downloadable service data
Wet hands operating is available
Charging station
Unilift Ceiling Systems Meet Your Unique Needs
For more than 25 years, Unilift from Barrier Free Lifts has been the reliable and trustworthy name in ceiling lift systems.  With a low cost of ownership, Unilift systems can be installed in homes, acute care, rehabilitation, and long term care settings.  From site planning, custom design, construction to installation of your system, VJN Enterprises can address your needs.
VJN Enterprises has been delivering home mobility and accessibility solutions since 1988.  We sell and service the best, affordable, and most practical products to help make your home a handicap accessible home.  Our experts works with you to design and install solutions that fit your lifestyle and your budget.  We accept most insurance and will work with you to make sure your insurance covers our products and services.  Contact us to learn how we can make your home work for you.
Sit down with one of our experts and explore all of the affordable home mobility and accessibility options and designs we offer.
| | | |
| --- | --- | --- |
| Monday | | 9:00 AM - 5:00 PM |
| Tuesday | | 9:00 AM - 5:00 PM |
| Wednesday | | 9:00 AM - 5:00 PM |
| Thursday | | 9:00 AM - 5:00 PM |
| Friday | | 9:00 AM - 5:00 PM |
| Saturday | | Closed |
| Sunday | | Closed |