Prairie View Industries Ramps
A global leader in the design and manufacture of aluminum wheelchair ramps since 1991.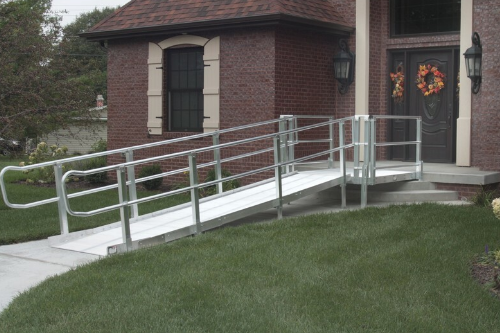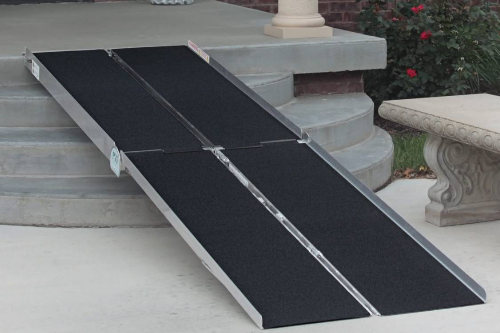 Folding ramps provide convenience and portability. They are portable, lightweight and easy to handle.  They can be set up quickly to provide stable and secure access for wheelchairs and scooters with various wheel configurations.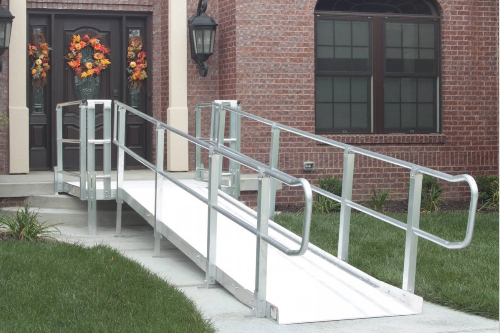 Modular ramps can be built to accommodate almost any application.  They are easy to assemble and come in 3', 4', and 5' widths.  Ramps sections can be combined and configured with turns and platforms to address almost any access requirement.  All modular ramps can be easily moved or reconfigured.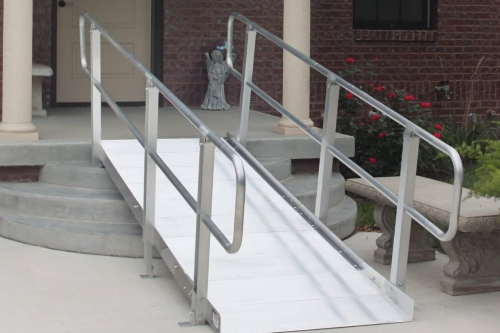 Solid ramps are available in 3' through 10' lengths in 1' increments.  All solid ramps come with handrails and can be spliced together to create additional sizes.  They can be installed in minutes, have a slip-resistant grooved aluminum surface, and require little to no maintenance.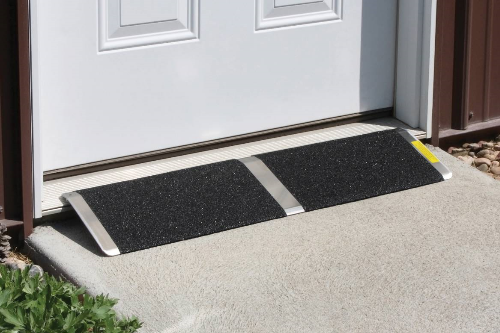 Lightweight and durable threshold ramps provide access over both indoor and exterior thresholds.  Several models can be custom fit to accommodate most solutions, and are easy to install and maintain.
Handicap Ramps Make Access Easier
Handicap ramps take the risk and danger out of stairs, and make it easier for physically challenged people to get around.  In your home, handicap ramps afford you the opportunity to make entry and exit safer and easier.  Ramps can also be used over threshold and in vehicles to further increase mobility.  PVI Ramps are among the best, most flexible, and most affordable ramps available.
VJN Enterprises has been delivering home mobility and accessibility solutions since 1988.  We sell and service the best, affordable, and most practical products to help make your home a handicap accessible home.  Our experts works with you to design and install solutions that fit your lifestyle and your budget.  We accept most insurance and will work with you to make sure your insurance covers our products and services.  Contact us to learn how we can make your home work for you.
Sit down with one of our experts and explore all of the affordable home mobility and accessibility options and designs we offer.
| | | |
| --- | --- | --- |
| Monday | | 9:00 AM - 5:00 PM |
| Tuesday | | 9:00 AM - 5:00 PM |
| Wednesday | | 9:00 AM - 5:00 PM |
| Thursday | | 9:00 AM - 5:00 PM |
| Friday | | 9:00 AM - 5:00 PM |
| Saturday | | Closed |
| Sunday | | Closed |