Home Elevators
from Pneumatic Vacuum Elevators
Revolutionary Technology.
Innovative Solution.
Elegant Design.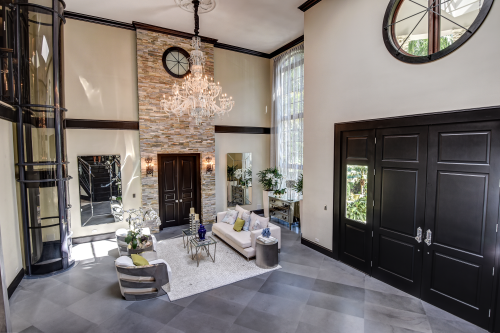 PVE currently manufactures three versions of its air driven home elevators.  They range from a single passenger model to a three-passenger, wheelchair accessible home lift. All of PVE's vacuum home lift systems are capable of up to a 50 foot (15m) vertical rise over as many as five stops. The unique design of their vacuum residential elevators is a perfect choice for any retrofit or new construction project.  Air-driven elevators will enhance the value of your home without the large footprint of traditional home elevators. These innovative home elevators do not require any pre-construction shaft, pit, or machine room.  As a result, they can be installed in as few as two to three days. Air-driven elevators use a vacuum pump to generate areas of higher and lower atmospheric pressure within the cylinder, allowing them smoothly between floors.  Because of their unique design, they use much less energy than other home elevators.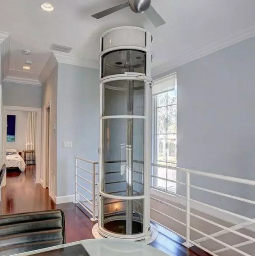 Single Passenger Residential Elevator
30″ Inch Exterior Diameter
350 lbs Capacity
As the world's smallest residential elevator, the PVE30 has quickly found its place as the ultimate space-saving solution for any home. If you are in need of a home lift, but are limited in space, these Single-Passenger Residential Elevators are the perfect solution for you.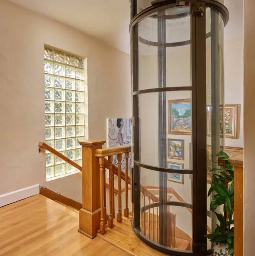 Two-Passenger Home Elevator
37″ Inch Exterior Diameter
450 lbs Capacity
The PVE37 was introduced in 2002 as the first Pneumatic Vacuum Elevator model. It is thhe ideal space saving solution.  This Two­-Passenger Residential Elevator can fit virtually anywhere inside the home without the large footprint of traditional home elevators.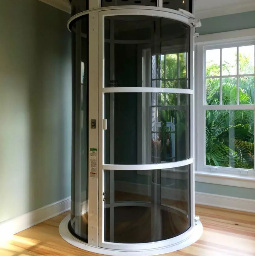 3-Passenger Wheelchair Accessible Elevators
52-11/16″ Inch Exterior Diameter
525 lbs Capacity
The PVE52 is the largest residential elevator model available.  It is the perfect choice for those in need of a Wheelchair ­Accessible home elevator or wheelchair lift.  As the largest model, it can carry up to three passengers, or one passenger and a wheelchair.  The PVE52 installs quickly with minimal pre-­construction requirements.  With its innovative design, it offers everything you need in a residential elevator.
Advantages of an air-driven home elevator
Click on the video to see that advantages that a vacuum elevator provides including:
Affordability
Fast installation
Fully certified to ASME standards
Full set of safety features
Custom built to fit your home
Space-saving design
Minimal Maintenance
VJN Enterprises has been delivering home mobility and accessibility solutions since 1988.  We sell and service the best, affordable, and most practical products to help make your home a handicap accessible home.  Our experts works with you to design and install solutions that fit your lifestyle and your budget.  We accept most insurance and will work with you to make sure your insurance covers our products and services.  Contact us to learn how we can make your home work for you.
Sit down with one of our experts and explore all of the affordable home mobility and accessibility options and designs we offer.
| | | |
| --- | --- | --- |
| Monday | | 9:00 AM - 5:00 PM |
| Tuesday | | 9:00 AM - 5:00 PM |
| Wednesday | | 9:00 AM - 5:00 PM |
| Thursday | | 9:00 AM - 5:00 PM |
| Friday | | 9:00 AM - 5:00 PM |
| Saturday | | Closed |
| Sunday | | Closed |