Air-driven elevators for safe, elegant accessibility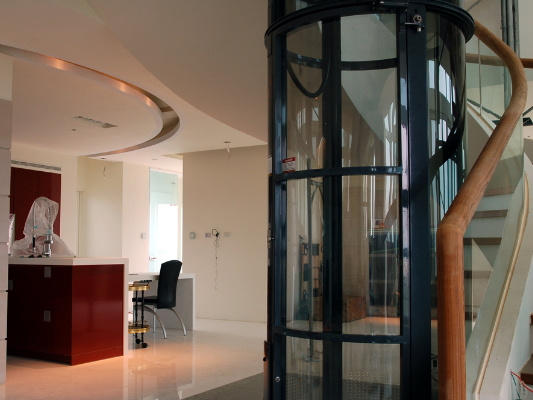 When you pull up to the drive-thru at your local bank branch, you're more than likely confronted with a vacuum system that uses a canister and a sealed tube to deliver items to and from the bank teller. It's a straightforward and intuitive technology that is quick, quiet, and efficient.
Imagine that same technology in your home, delivering you between floors quietly, safely, and effortlessly. That safety and convenience is what air-driven elevators offer. A series of exhaust fans at the top of the unit depress the pressure above, and the elevator is car is sucked upward on a series tracks within the tube. On the return trip, the car glides downward, using only the force of gravity, air-driven elevators more eco-friendly than conventional elevators.
Comparable in price to traditional residential elevators, air-driven elevators require no elevator shafts, pits, extensive electrical upgrades, or machine rooms. These construction elements disrupt your structure and take weeks to install. Vacuum elevators can be installed and are operational in 1-3 days.
Pneumatic Vacuum Elevators (PVE) are the only air-driven elevators on the market. They are safe, practical, elegantly designed, and offer a 360-degree view. PVE's Vacuum Tube Elevators come in 3 sizes, and can accomodate 1 to 3 passengers and/or a wheelchair bound passenger. The units consist of an outer transparent cylinder, with an inner transparent passenger cylinder. The safety features are excellent, and you won't find a more attractive elevator anywhere. Most elevators detract from the looks of a home. This elevator enhances your home.
The unique design of the Vacuum Elevator is a perfect choice for any retrofit or new construction project and will enhance the value of your home without the consuming footprint or stressful installation process of a traditional home elevator.
VJN Enterprises has been delivering home mobility and accessibility solutions since 1988.  We sell and service the best, affordable, and most practical products to help make your home a handicap accessible home.  Our experts works with you to design and install solutions that fit your lifestyle and your budget.  We accept most insurance and will work with you to make sure your insurance covers our products and services.  Contact us to learn how we can make your home work for you.
Sit down with one of our experts and explore all of the affordable home mobility and accessibility options and designs we offer.
| | | |
| --- | --- | --- |
| Monday | | 9:00 AM - 5:00 PM |
| Tuesday | | 9:00 AM - 5:00 PM |
| Wednesday | | 9:00 AM - 5:00 PM |
| Thursday | | 9:00 AM - 5:00 PM |
| Friday | | 9:00 AM - 5:00 PM |
| Saturday | | Closed |
| Sunday | | Closed |